Personal Training classes

Styner Sports Training offers the most comprehensive performance-enhancement training, conditioning and recovery training in Northeast Indianapolis. We focus on a proven results-driven approach that covers every aspect necessary to achieve your goals, whether they involve sports performance, weight loss, or a healthier lifestyle.



Personal Training Classes
If you're ready to achieve your own personal goals, then Styner is for you. Here, elements of gymnastics, weightlifting, powerlifting, sprinting, rowing and jumping are all combined into one program to provide you inclusive fitness. This program will simultaneously develop your endurance, stamina, strength, flexibility, power, speed, agility, balance, coordination, and accuracy.

Sports Specific Training
We help athletes to maximize their potential and achieve a level of play above and beyond the competition. All you need to bring is hard work a determination and we provide the rest. Our strength coaches will provide the knowledge and means to help you become the dominant force you always knew you could be.



---
Class Rates:
2 classes per week - $80/month
3 classes per week- $100/month
Unlimited classes- $125/month

Personal Training:
$65 an hour

Open Gym:
$40/month
Styner has a fantastic, dedicated family that participates in the classes throughout the week. Everyone is very positive and we all work off of each other. All of the workouts are able to fit anyone's needs. Everything can be modified to help you. Each day, we like to spend 15-20min working on strength in many ways. The WOD (Workout of the Day) is a timed and circuited series of exercise movements at a high intensity level.


"We are here to help you. We are driven to accommodate your needs and goals. We thrive on helping those who are looking to change their lifestyle and become more active. Our workouts are always based on what you can do, not what someone else has done. We have a great family of members here who encourage and motivate others everyday. We are very lucky to have such great people with us. It only takes one change of mind to make a big choice for yourself. Help us help you."

Chris Clyne (co-owner)







---
Powered by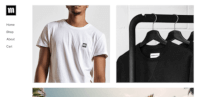 Create your own unique website with customizable templates.